How one tech entrepreneur fights world hunger from the palm of his hand
Mic asks tech entrepreneurs: "What are 12 things you did with your phone today?" Feeding Children Everywhere's CEO Dave Green uses his to stay in control of a global nonprofit.
Visible
is an all-digital wireless service, easily accessible through its Visible app, that offers unlimited data, messages, and minutes at speeds up to 5 Mbps for $40 a month. Visible recently partnered with
Mic
to tell the stories of those striving for good in the tech industry, getting a peek into their world through a day in the life of their phone. This article was created by
Mic
's branded content team.
According to Dave Green, if groceries were just more affordable, there wouldn't be hungry children in the United States.
Since February 2016, Green has served as the CEO for Feeding Children Everywhere, and he's banking on his organization's latest program, Full Cart, to help end hunger. Full Cart is a food delivery app that provides meal kits and food products for a fraction of the normal cost. Once a person qualifies, all they need to pay is the shipping and handling for the food, which is less than $10.
"[Full Cart] is great for hardworking individuals and families looking for a way to extend their grocery budget," Green said recently. "That program [represents] our desire to make groceries more affordable for people."
As CEO, Green connects with his staff and company partners solely through smart devices — relying completely on mobile applications downloaded to his watch and iPhones — for everything, from making connections to making final decisions.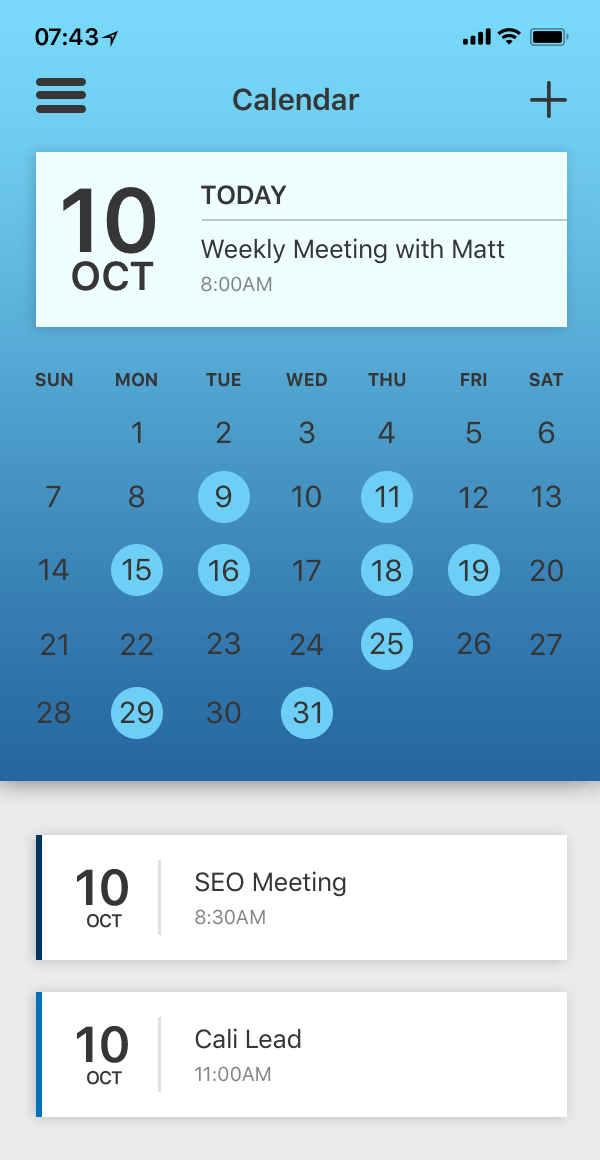 Using your time wisely:
"I'm using [my phone's calendar app] literally from from 5:30AM until midnight."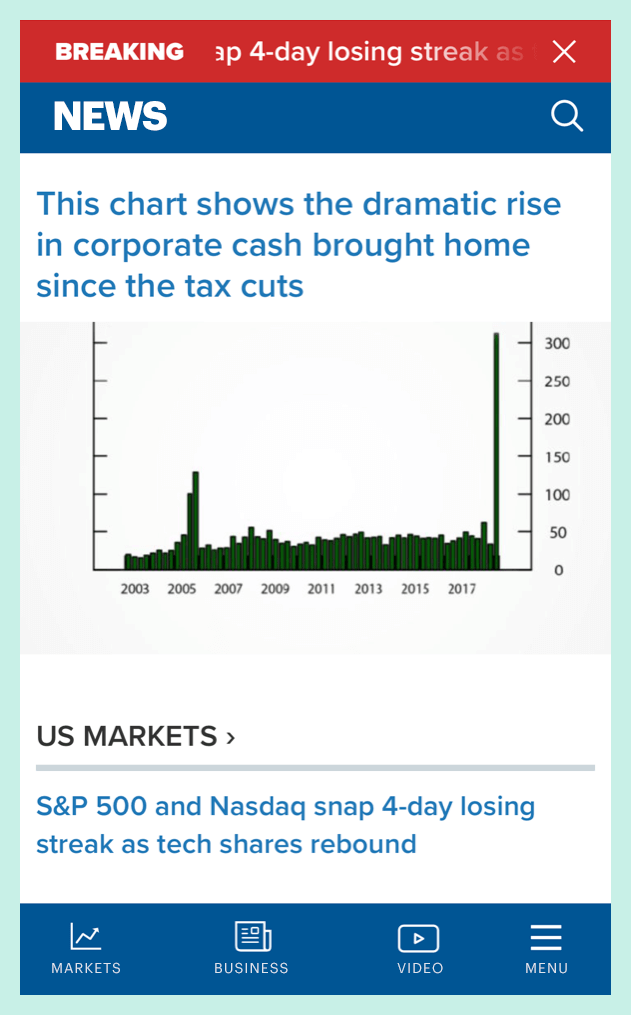 Keeping up:
"Everyday I'm [on top of the news], staying in touch with where markets are at. As a CEO, you're always trying to predict what's out a year and what's out two years from now."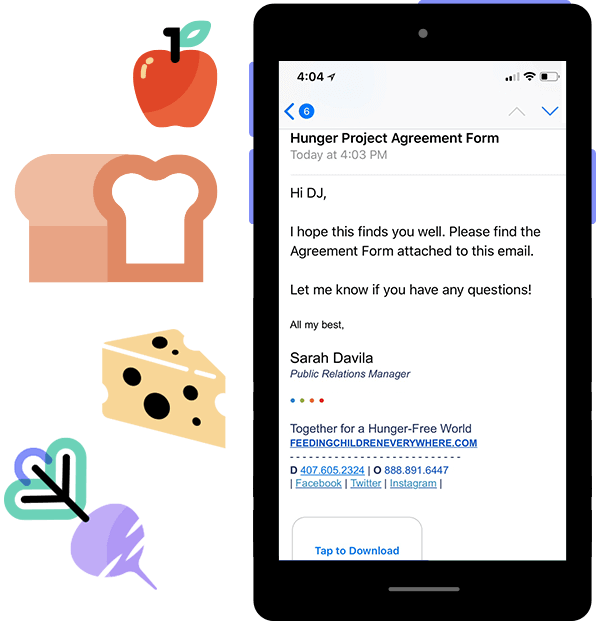 Oh, there's emails:
"Of course, email is never going to go away. [In this screenshot, I am] on an email chain with a partner who's in the process of booking a big hunger project with us to send a shipping container of food to northern Uganda to help the south Sudanese refugees on a refugee settlement on the border."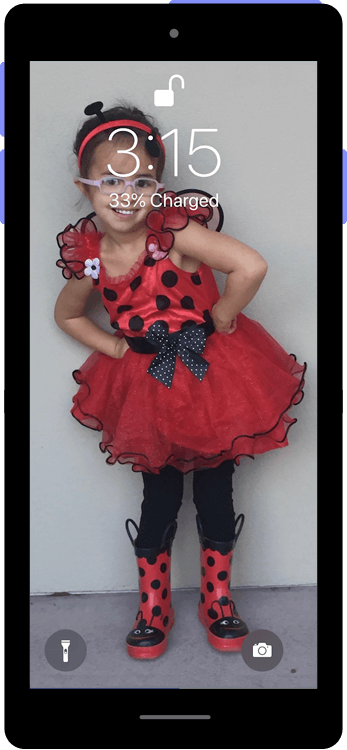 Staying centered:
"[This] screenshot is of my background photo on my phone [which] is my adorable, oldest daughter Emily, who is now about five and a half. She's dressed up like a ladybug with her little ladybug rain boots."
One of the most convenient applications on Green's phone is Visible. The app, running on Verizon's 4G LTE network, launched in May. It boasts "no stores, no annual contracts and no foot-long bills."
For $40 a month, the plan provides you a SIM card that you place in your unlocked phone for access to unlimited data, messages and minutes nationwide at speeds up to 5 Mbps.
But even in its infancy, the app has been making waves through supporting community-focused organizations with its Visible Connect program. This summer, through a partnership with the venture accelerator Uncharted, Visible chose nine nonprofit organizations with startups to help achieve their missions, including Feeding Children Everywhere's Full Cart startup.
Nearly a decade ago, Dave Green stopped using a computer, yet the CEO manages to run his growing organization of nearly 100 employees, thousands of volunteers, and his daily routines completely through two iPhones and an Apple Watch. Before being interviewed, Green held a leadership team meeting where he stressed, "how important communication is" and how important it is to have the right tools.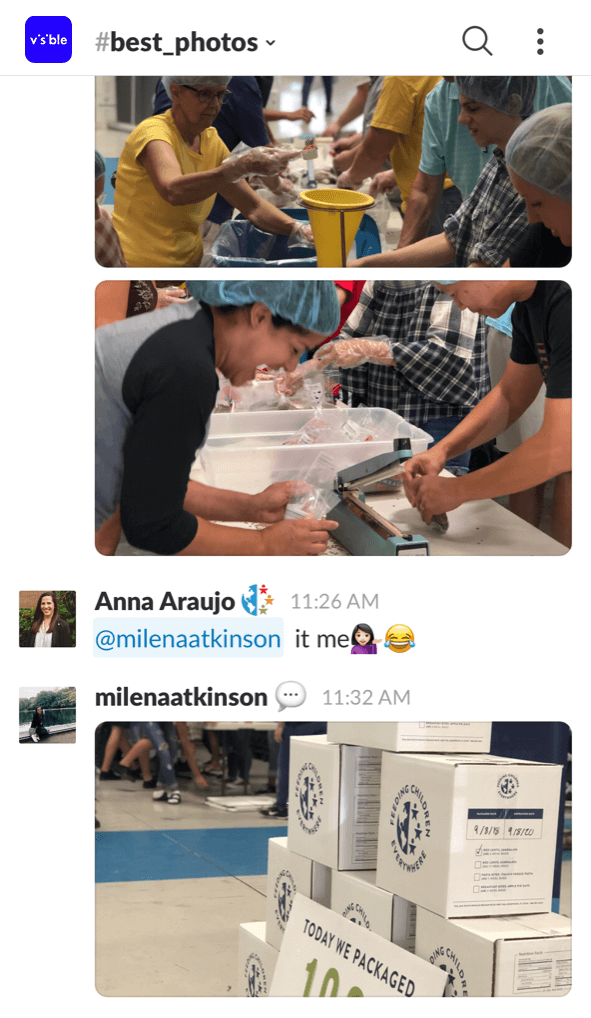 Snapping pictures:
"[This is] from [our in office messaging server] where we have a ... channel called 'best photos.' We do [this] high energy hunger project — these volunteer events all across the United States. So in this channel, people from our team post pictures from events that they were at during [the] day."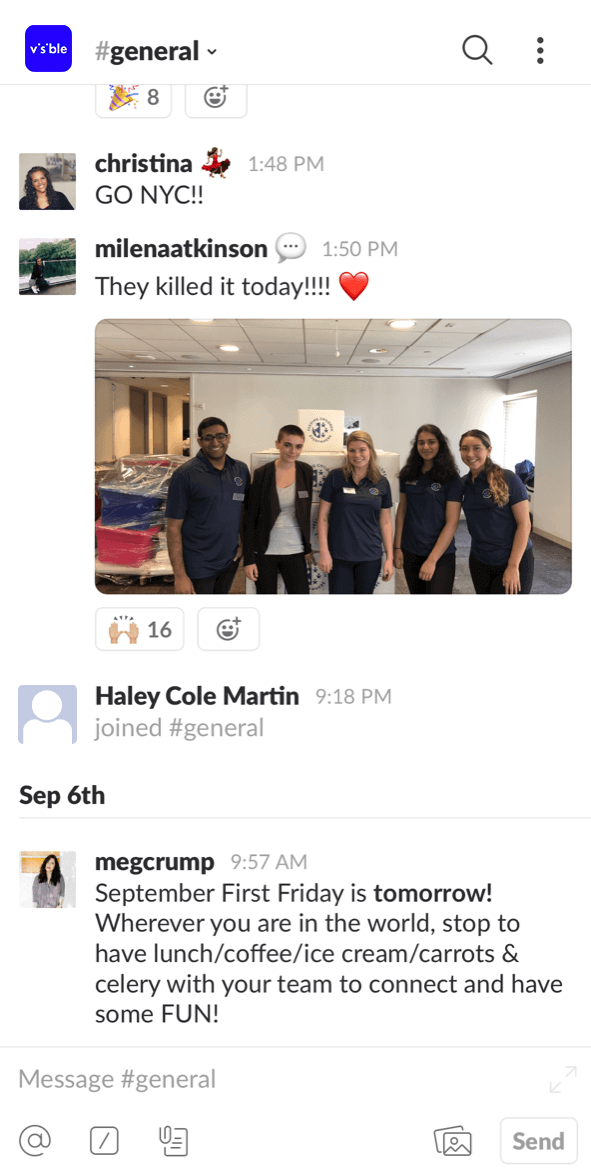 Empowering the leaders of tomorrow:
"This screenshot is from the general channel in our [office messaging server]. Those are our New York City interns at what appears to be probably their first project in New York City. So great to see them doing their first project."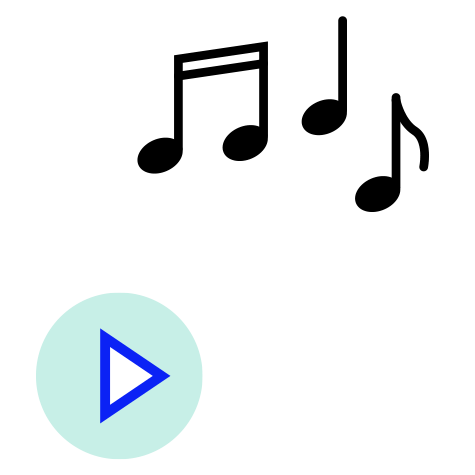 Jamming with you:
"[This is another thing] I use my phone for a lot. I love music."
He admits he was once like most of us, accustomed to staring at these eye-sucking monitors, while he was working in the corporate world. But it was in 2008 when it hit him that there was a better way to live his life: more efficiently and with purpose.
"I quit my job," he said. "I gave away everything I owned, except for a backpack with some stuff in it."
For six months, Green hiked the Pacific Crest Trail, beginning at its southern most mark in Mexico and traveling up and down mountains and across deserts. He crossed river rapids and trekked through snow and ice all the way to the trail's northern mark in Canada.
"And while I was doing that, I just learned this really valuable lesson about myself, which was that if I really wanted to be happy with my life, if I really wanted to be fulfilled and feel content, that my life needed to be about serving others," Green said. "And whether that was in the for-profit world or the nonprofit world, it was really about a heart change that needed to happen in me."
Two years later, a family in Sanford, Florida, decided to make contributions to help those suffering in the aftermath of the 2010 earthquake in Haiti. It was not too long after, Green said, that he met the family that started the stateside nonprofit that would later go on to be Feeding Children Everywhere. As of October 2018, the organization is 700,000 volunteers-strong.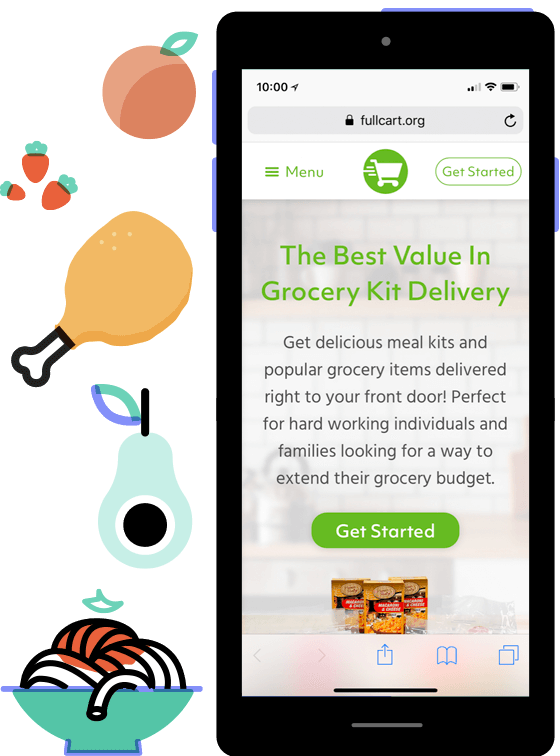 Full Cart:
"[This] screenshot is [of] our Full Cart program, which is the program that we were accepted [into for] the Uncharted Visible Connect accelerator. Full Cart is our program for grocery kit delivery. We deliver delicious meal kits and popular grocery items right to somebody's front door. If groceries were just more affordable, we wouldn't have hungry children in the United States, so this is our effort to make that happen. And we believe five years from now there really will be no excuse for any child or any adult to be hungry in the United States. It's just a matter of creating the access that we need to help people who don't have food."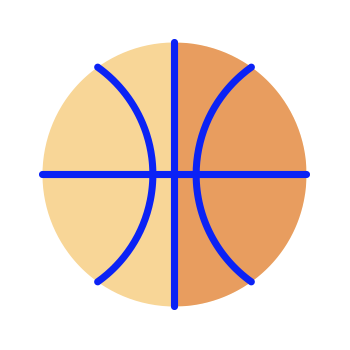 Future plans:
"I use [ticketing service apps]... a lot."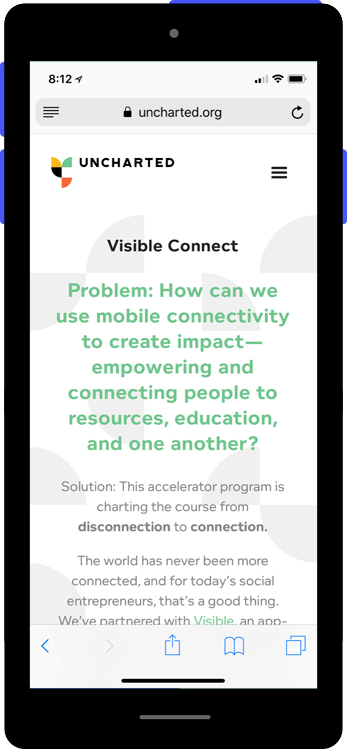 Visible Connect:
"The next screenshot is of Visible Connect on our Uncharted page. I had a call today with one of the mentors that we're working [with] on a sort of a joint venture where our organization is going to be featured on their platform so that their user base will basically have access to utilize our food assistance program."
"I instantly knew, like, OK, this is the thing I'm supposed to be doing," he said. "It's been an amazing adventure since then." And a very self-sufficient one at that.
"Although [Visible] is a provider of this technology service through their mobile platform to give people the power of communication, at the same time, they're really a peer of ours doing social good because they're in an industry where there are some providers that are a little more predatory on the consumer and Visible is passionate about it being an organization that is looking at a group of consumers and saying, 'No, there's a more fair and more ethical and better approach for this group of consumers,'" Green said.
"And what that essentially means is people will have more money in their bank accounts, [to] buy things like food."
It all aligns with Green's idea of being economically efficient, and he's hoping the Visible model can inspire others to become more self-sufficient.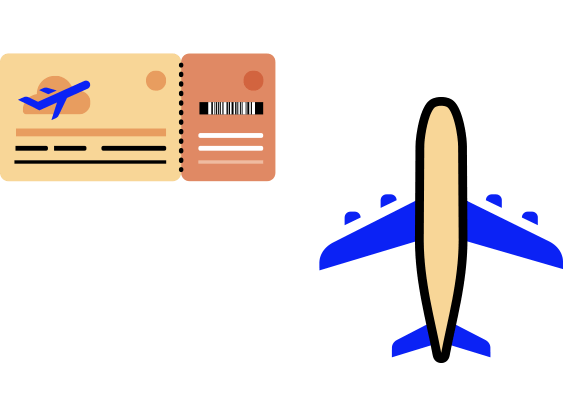 Staying on the move:
"I'm in [an airline] app pretty much every day."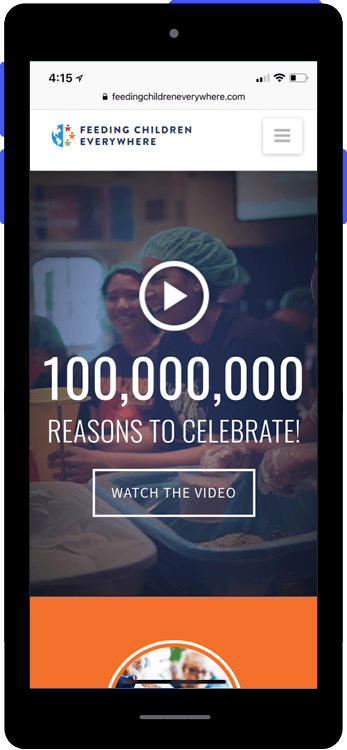 Feeding Children Everywhere:
"[This last one is a] screenshot from our Feeding Children Everywhere website. That's our main website and kind of the cool part of [that] screenshot...is "100 reasons to celebrate," [which is celebrating the fact that] we distributed our 100,000,000th meal in July of this year."
"Food is just the beginning of the conversation," Green said. "By … showing compassion and providing food to someone in need, it gives us the opportunity to start a conversation more broadly about what are the types of services and connections we can help make for them that put them on the pathway … they want."
Since the launch of the Full Cart program in the U.S., Green says nearly 40% of those who requested meals also wanted help with career resources.
"That's incredibly encouraging that 40% of the people are saying, 'Hey, I want to try to find a better job or I want to try to be an entrepreneur. Computer skills would help me to get a better job.'" he said. "It tells me that our desire to create a pathway to self-sufficiency matches the desire in their hearts."
It's the type of self-sufficiency Green yearned for growing up in the once blue-collar town of Ocala, Florida. His father, a self-employed mechanic, was denied food assistance because he couldn't prove his income. Green said he continued to live in poverty through his twenties and spent most of that decade trying to escape it.
"That experience that happened to me as a young boy of being turned down for food assistance and all the experience[s] in between, I've been able to pour that [into] my passion and my desire to serve others," he said. "I've been able to pour that into the organization and it's given me an opportunity, just like everybody else on our staff, to really pursue this, this idea of a hunger-free world."