This startup imagines a world where elections are more about issues than political parties
Mic asks tech entrepreneurs: "What are 12 things you did with your phone today?" IssueVoter CEO Maria Yuan uses hers to build communities of informed voters.
Visible
is an all-digital wireless service, easily accessible through its Visible app, that offers unlimited data, messages, and minutes at speeds up to 5 Mbps for $40 a month. Visible recently partnered with
Mic
to tell the stories of those striving for good in the tech industry, getting a peek into their world through a day in the life of their phone. This article was created by
Mic
's branded content team.
Sometimes people tell Maria Yuan that they are not into politics or don't view themselves as "political." Respectfully, this tech entrepreneur isn't buying it. "Whether we like it or not, politics affect every aspect of our lives [from] the taxes that we pay [at] the grocery store [to] big picture things like the air we're breathing," she said. From her years of experience in both the political and finance worlds, Yuan has learned that everyone has a political issue that they care about. With this in mind, Yuan founded IssueVoter to help more Americans ensure their voices are being heard.
When you sign up with IssueVoter, one starts by choosing which issues matter the most to them, like civil rights, agriculture, immigration, or college debt. The platform then alerts users to new bills coming up for vote that match their interests. After offering a summary of the bill — including both opponent and proponent viewpoints — IssueVoter asks where you stand on the issue. With one click it sends your position straight to your representative's inbox and follows up with you throughout the year with updates on how often your rep voted in your interests and how often they didn't.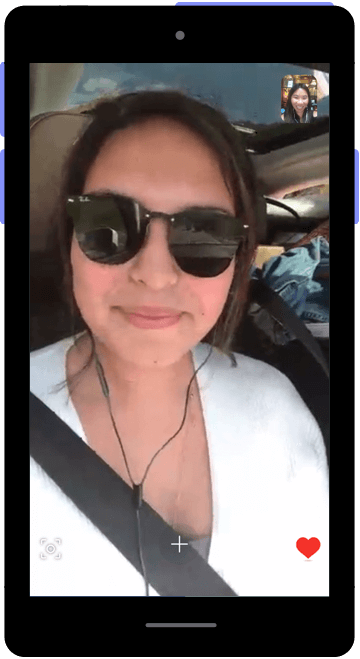 Face time:
"Aleia Lebowitz and I had a call today. It's great to be able to keep our meetings on the go... I used to not like video chat. Now I really find that I connect better with people through video [when] you can really see them."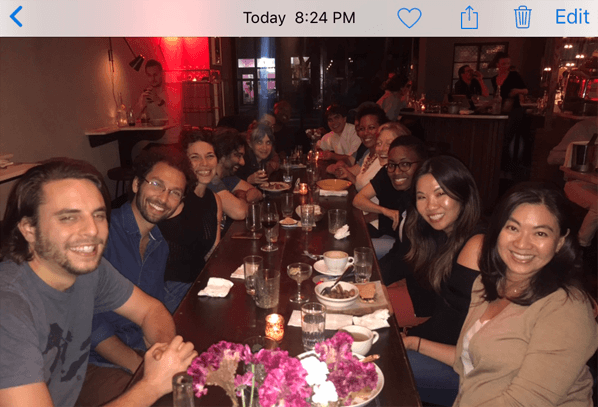 Capturing the magic:
"We kicked off [our fellowship retreat] last night with dinner… Before smartphones, I was one of those people that would actually bring my camera places, like a special occasion or a dinner..."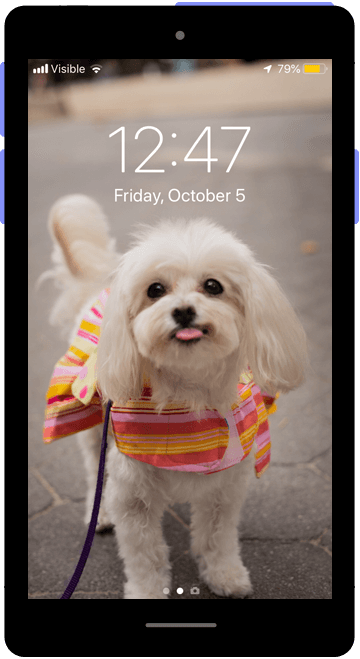 Obligatory puppy pics:
"...But now I just use my phone, so it's great. I have over 8,000 screenshots, pictures, [and] videos. It's pretty amazing that I have that many. A lot of [the pictures on my phone] are of my dog, [Cotton]! [Including] my homescreen image."
As IssueVoter's CEO, Yuan is always on the go. She needs her phone to do everything her desktop can, whether that means updating and sharing spreadsheets, approving newsletter and merchandise designs, or gathering employees and organization partners together for a virtual meeting.
One app in her phone that is crucial to that connection is Visible. Launched in May, Visible is a phone service that, for $40 a month, provides users with unlimited data, messages and minutes nationwide.
Instead of annual contracts or long bills, Visible users get a SIM card they can place in their unlocked iPhone. Together, the service's 5 Mbps speed and 480p resolution on Verizon's 4G LTE network is optimized for streaming, "giving you more of what you need and less of what you don't."
This summer, as part of its mission to change communities through mobile technology, Visible's social good program, Visible Connect, partnered with venture accelerator Uncharted and selected nine nonprofit startups to support in achieving their mission. IssueVoter happened to be one of the innovative organizations that they chose.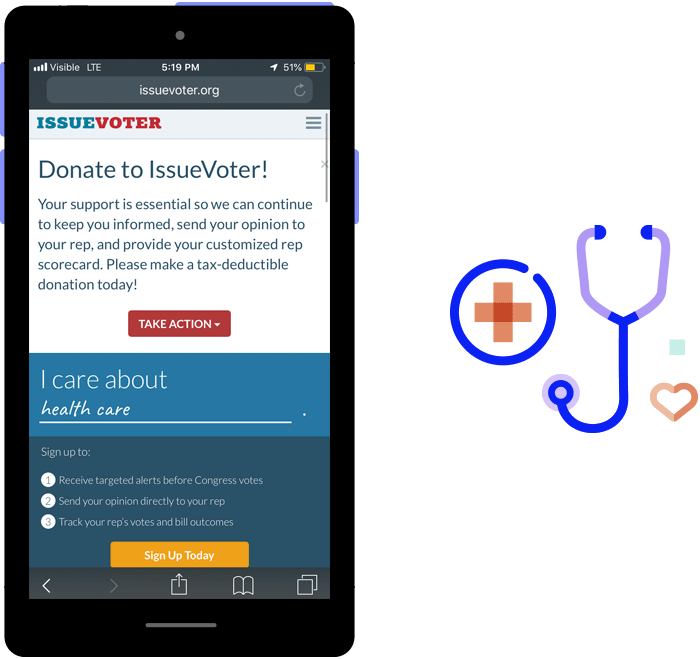 Knowing about the issues:
"[This is] the IssueVoter homepage that I visit often from my phone and desktop. From [here], I am able to add new bills to the site, which triggers alerts to users."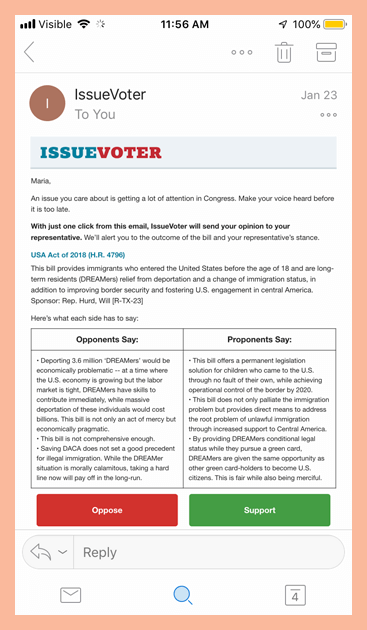 Staying alert:
"This is one of our bill alerts - clicking 'support' or 'oppose' directly from the email alert sends your opinion to your rep without having to log in. The alert contains a summary, points from both sides, and links to the full bill text and related articles."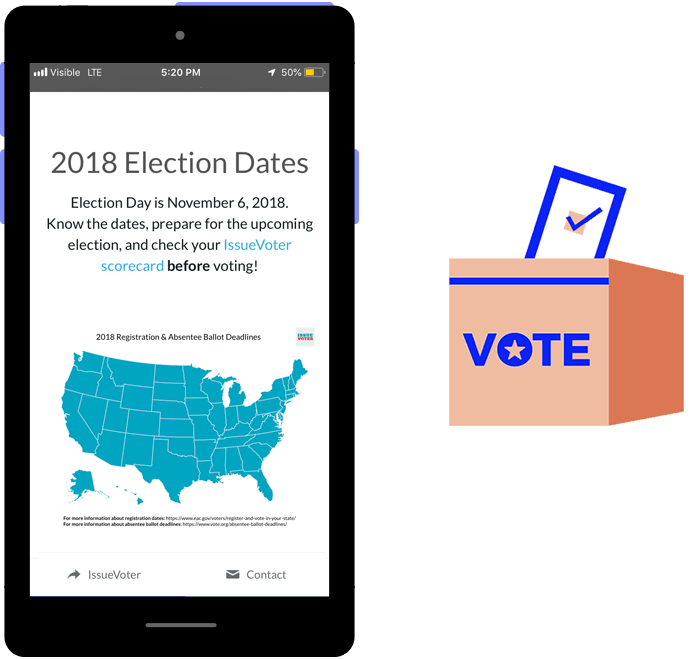 Knowing key dates:
"We created an interactive map showing each state's voter registration and absentee ballot deadlines."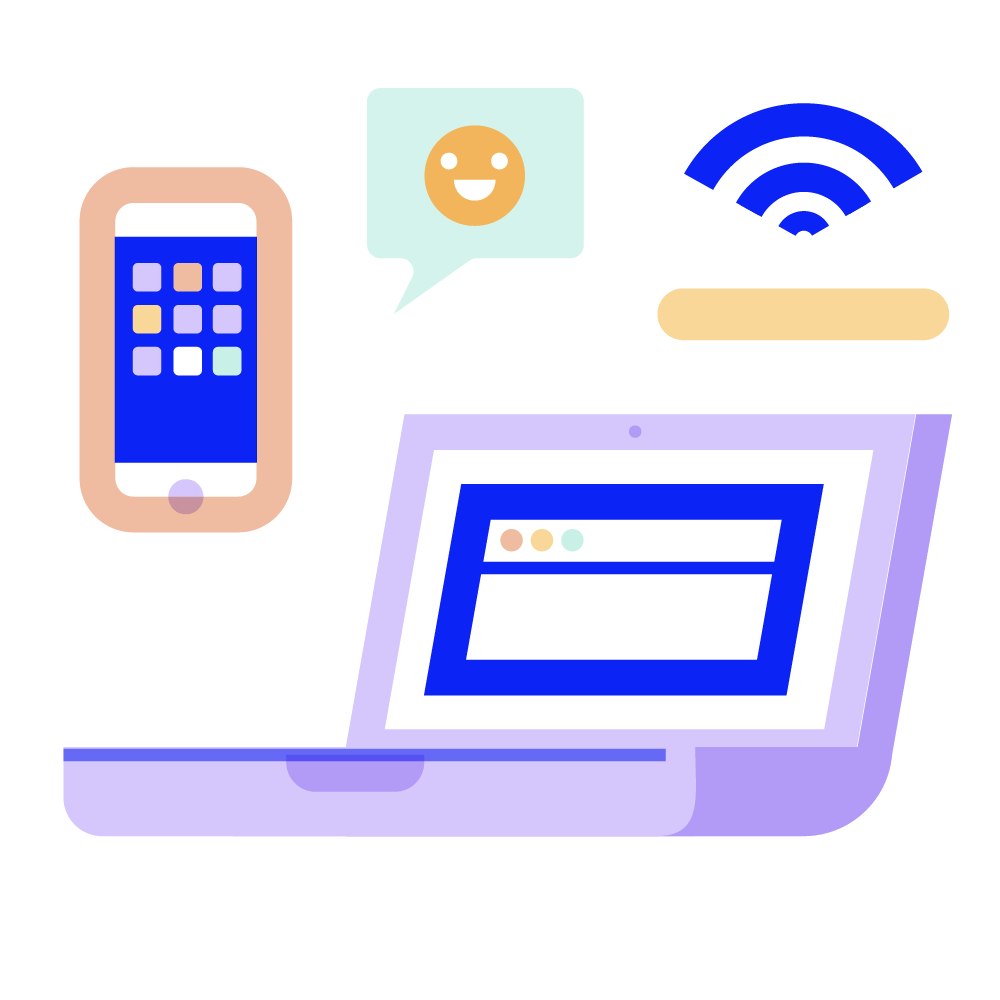 Easy access:
"You can create an app-like experience by saving IssueVoter to your home screen for easy access!"
Yuan came up with the idea for IssueVoter while working on a critical Iowa state senate campaign in 2006. "I saw how engaged people were in the context of elections, but what I realized was that people become disengaged throughout [the rest of] the year," Yuan said. "You would never pay and promote an employee without seeing any of their work. Yet we re-elect our reps without truly knowing the real work they do throughout the year and if they're representing us." After scouring the civic tech space and finding nothing that facilitated year-round engagement, Yuan decided to create her own platform, launching IssueVoter in 2016.
"Before IssueVoter, you would have to go to one website to find out who your rep is, another website to read legislation and learn about what they're voting on, another website or platform to send your opinion to your rep," said Yuan. "Finally, you send your opinion or you call or you sign a petition and then you never hear back." Features like IssueVoter's scorecards, bill alerts, and bill summaries, give users an easy way to hold elected officials accountable. More than just voting, it emphasizes the importance of people making their voices heard throughout the year.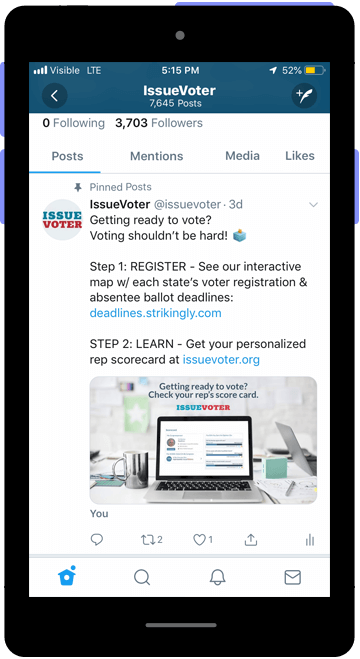 Engaging the public:
"We love it when people tag us [on social media]… We [post] every day about issues people may be unaware of and the importance of accountability and transparency. Now, leading up to the election, we share how IssueVoter helps individuals get ready to vote, by learning who their rep is and whether s/he is representing them! We also welcome users to contact us with questions and suggestions..."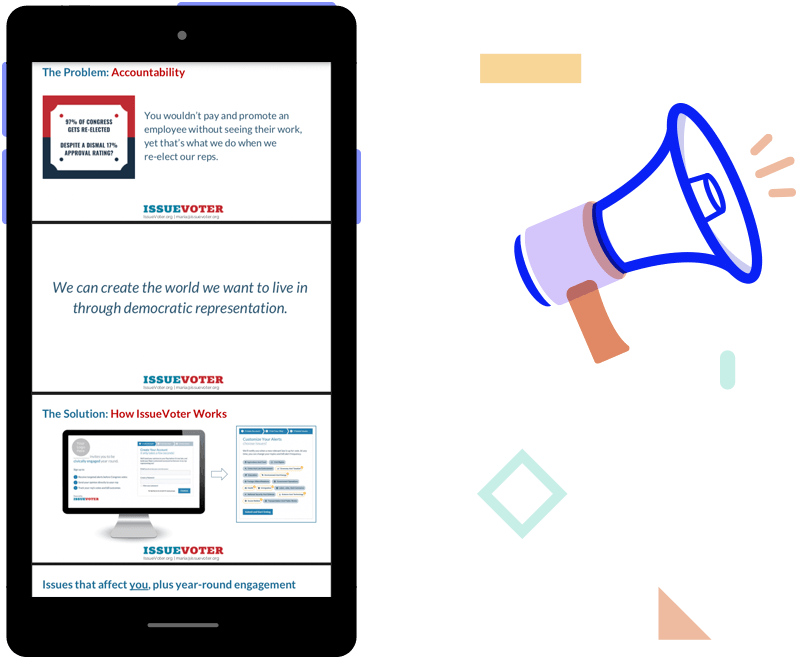 Spreading the gospel:
"We're doing a webinar with 'ALL IN to Vote' for colleges to introduce and share how IssueVoter makes students more informed voters and increases voter turnout. I can access my slides from...my phone."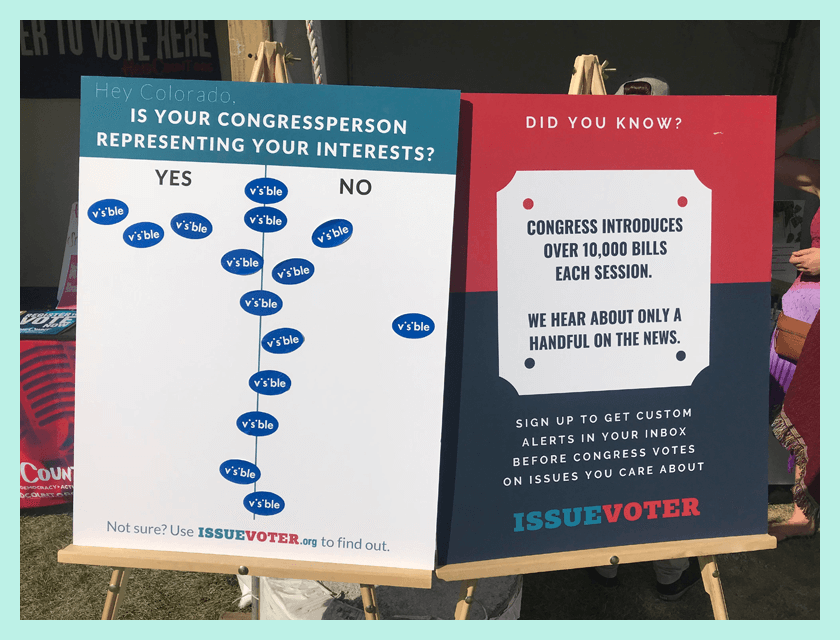 Taking it on the road:
"There was recently a concert in Colorado. Visible had a booth at that concert where they were sharing IssueVoter and getting people excited. We have this really cool photo where we created this big poster [asking] 'Is your rep actually representing your interests?' Then people could put stickers on this board saying yes or no, what they thought. It was a fun interactive thing Visible helped us set up."
"One thing that I think is really cool about [Visible] is they are, in a way, also a startup… So it's almost like we can learn in parallel in some ways," Yuan said. "They have experts that are really helpful to us, especially in product areas and in marketing… And then of course they provided phone service for all of us which is so, so helpful."
For IssueVoter's small, completely remote team, that connection is invaluable. Yuan and her coworkers rely on phone and video conferencing to communicate both internally and with their nationwide network of partners.
"Right now, especially leading up to the election, we're making a lot of connections with other organizations that are very focused on ….registering [and getting people out to vote]," said Yuan. "By collaborating with them we're also sharing IssueVoter as a resource that people can use before the election to see who their rep is and see whether their rep is representing them. And then after the election our messaging shifts to, 'You just voted, now what?'"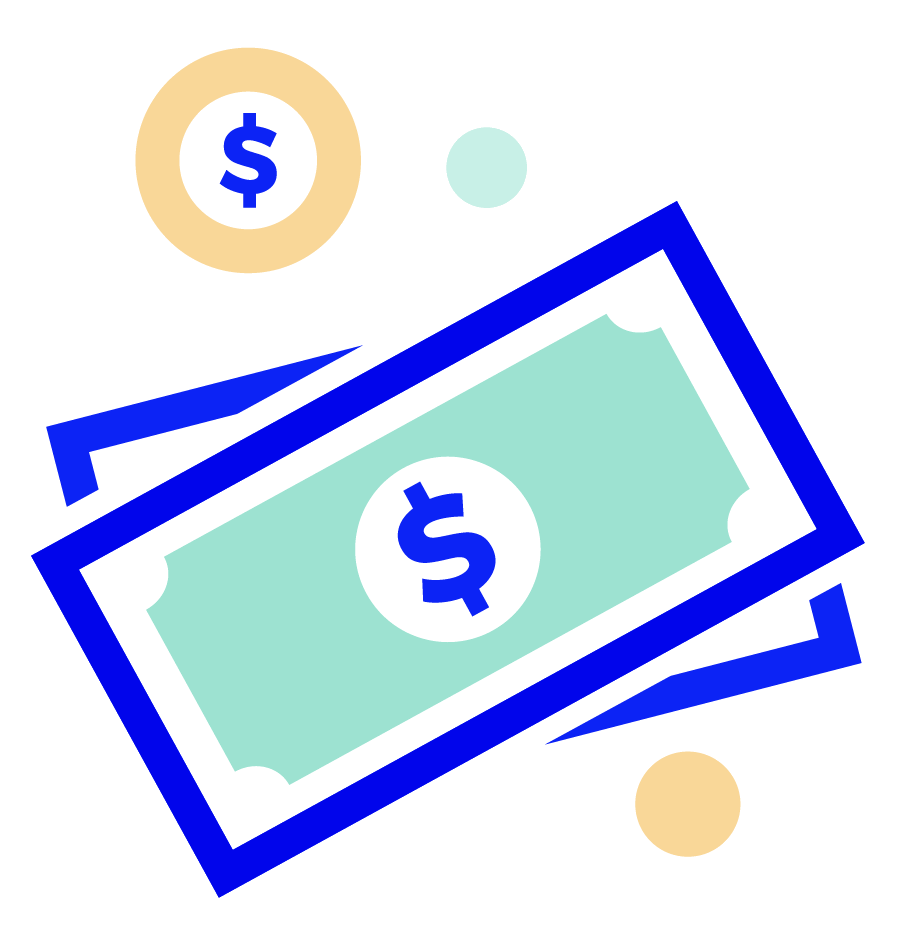 Money moves:
"From our website's donate button, individuals can give a one-time or recurring donation."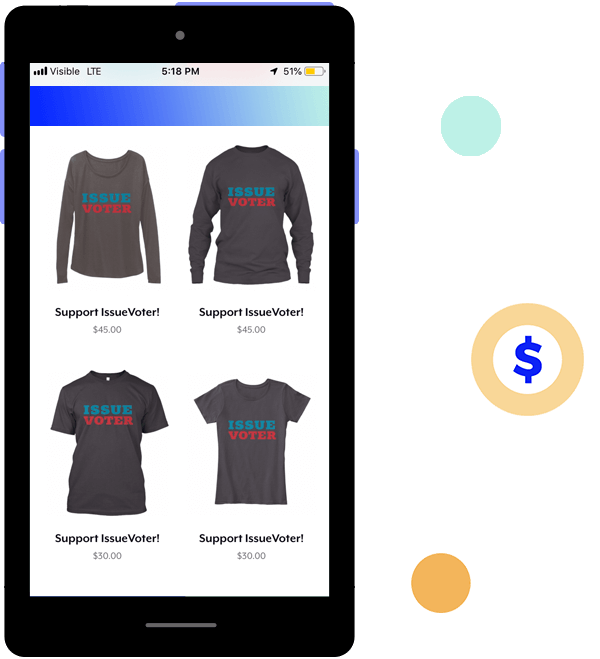 Swaggy Voter:
"Today, I checked [in] on our swag shop. We have several colors and styles of T-shirts, [mugs] and stickers!"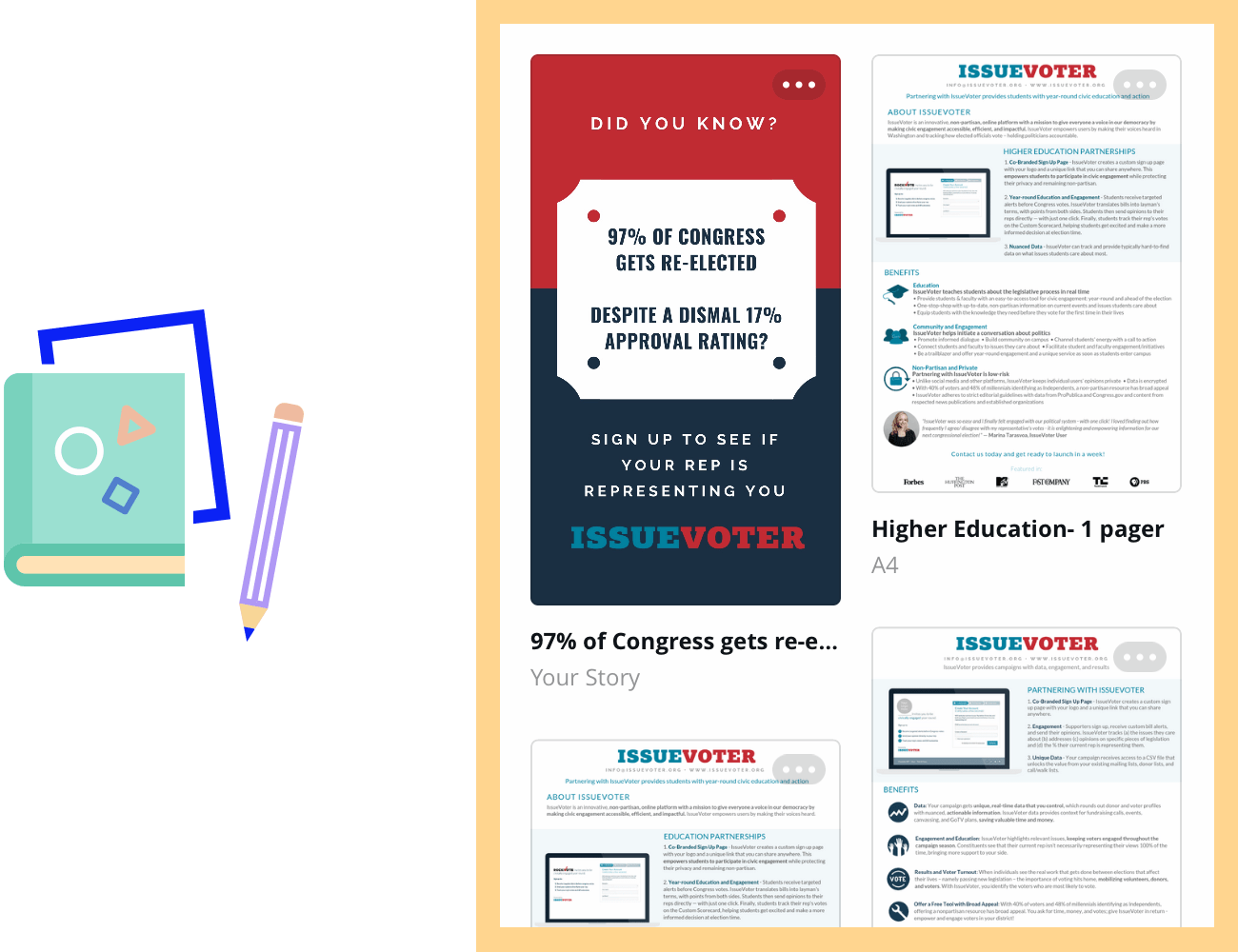 Designing the future you want:
"A behind-the-scenes look at our designs, including one-pagers for potential partner schools and companies."
Yuan's passion for IssueVoter and civic engagement can be traced back directly to her parents, whom she credits for instilling in her a deep appreciation for voting. With a mother who grew up in the U.S. and a father who immigrated from China, Yuan was raised with a multifaceted perspective on the democratic process. "[My mother] was part of a generation where everyone voted and there was never any question of should I vote or not. And so it was always very important to my mom," said Yuan. "For my dad you know coming from a country where democracy doesn't exist, when you live in America — I can't speak for everyone — but exercising your right to vote is something that you are grateful for and participate in."
IssueVoter is working to not only become a household name, but also to expand into local elections and other representational democracies. In the US, Yuan says it has already achieved a number of successes, including boasting users in all 435 congressional districts.
"Sometimes people are surprised ...after they start using IssueVoter [and find out], 'Oh, my rep is not necessarily representing me and I thought they were. Even if you are on the same side as your rep, it helps them when they're voting to be able to say 'I am voting with my constituents.'" she said. Ultimately, Yuan's goal with IssueVoter is to foster communities of people who are consistently civically engaged, thereby encouraging a truly representational government. "Reaching out electronically is going to be the way to have the majority of people's voices heard."